The Kindle Storyteller Award by Amazon is for writers in any genre, for a book published exclusively through Kindle Direct Publishing in both eBook and print formats between 1 May and 31 August 2020. The paperback version must be at least 24 pages long.
Value placed of Prize is £20,000.
Are you Eligible for the Amazon Kindle Storyteller Award 2020?
This competition is open to anyone who is 18 years of age or older the legal age of majority in their jurisdiction of residence at the time of entry.
The Competition and the official rules created by the organizers are void in Mexico, Brazil, Tasmania, Quebec and where prohibited by law, and are subject to applicable laws.
Entrants may not be a national or legal permanent resident of any of the following countries: Cuba, Iran, North Korea, Sudan, Syria or Region of Crimea.
Entrants may not be members of any guild, union or other organization that would restrict them from participating in the competition for any reason.
Not open to employees or independent contractors, or immediate family members of employees or independent contractors of Sponsor, any entity involved in any aspect of the Competition (including funding, judging or administration)
How To Enter for the Amazon Kindle Storyteller Award.
The deadline for the storyteller award on Kindle by Amazon is 31st of August.
• You must publish your book during this period in order to be eligible.
• To enter, during the Entry Period you must go to the Kindle Direct Publishing sign-in-page (you may select the language for your region in the upper right corner of the page) and follow the instructions to upload and publish to KDP an original, previously unpublished, English-language book authored by you (the "Book" or the "Entry"), and include the exact phrase "StorytellerUK2020" (without quotation marks) in the "keywords" metadata field in order for us to identify your Entry.
• Entry into the Competition requires that you have an Amazon account and a completed KDP account (to do so, visit the KDP sign-in page at  the website and following the instructions; and you have accepted the KDP Terms of Service and the Terms and Conditions for KDP Select Program.
• All Entries must be received by on 31st August 2020 or the entry will be considered void.
•There is no limit to the number of submissions that each Entrant can submit per account. Entrants assume all risk of lost, late, misdirected, incomplete, or unintelligible Entries.
• Sponsors of the competition is not responsible for (i) lost, misdirected, late, incomplete, or unintelligible entries or for inaccurate entry information, whether caused by entrant or by any of the equipment or programming associated with or utilized in the Competition, or by any technical or human error that may occur in the processing of Entries; or (ii) any printing, production, human or typographical errors in any materials associated with the Competition.
• Sponsor has the right disqualify , at any time, any Entry containing obscene, offensive, pornographic or sexually explicit material.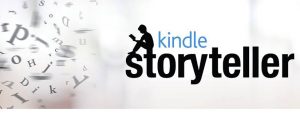 CONDITIONS OF ENTRY
Each entrant must follow and meet the following requirements when submitting an Entry:
• Entrant must be the legitimate author of the Book. The Book may have up to a maximum of two co-authors, provided the two co-authors enter the Contest together in a single Entry.
• The Book content must comply with the content policy and guidelines found in Amazon Website
 Content Guidelines can be found HERE and in the KDP Content Guidelines, and meet other reasonable community standards.
• The Book must not currently or previously have been the subject of a publishing agreement or option with any publisher or have been previously published in any format (including KDP) or in any other language.
• Entrant must enroll the digital version of the Book in KDP Select throughout the Competition, making it exclusively available through Amazon from the date of submission of the Entry until the announcement of the Finalists (as defined below), and if selected as a Finalist, until the Grand Prize winner is announced .
Entrant must make the Book available for sale in both digital and print versions through KDP. Entries that are submitted in one format only will not meet these conditions of entry.
• Each Book must be no less than 24 pages when in print format.
• Entrant must be able and willing to negotiate in good faith with Amazon to enter into an exclusive, worldwide publishing agreement for your Book in all languages, and must not be under any existing obligation that would inhibit or prevent entrant from entering such publishing agreements.
• Each entrant, by accepting these Official Rules and by entering this Competition, represents and warrants that he/she is the legitimate author of the Book entered; he/she owns all right, title and interest in and to the content of the Book, including all patent, copyright, trademark, service mark, mask work, moral right, trade secret or other intellectual property or proprietary right, and such content is not defamatory, libelous, obscene, or otherwise illegal; and he/she has received the written consent of any person (or parent or legal guardian if such person is a minor) who appears or is identifiable in any Entry.
• If is identifiable in his/her Entry, such entrant consents to the Sponsor's use of the entrant's name, likeness, photograph or image, whether in writing, audio, and/or video, for any purpose, in any media, without compensation or additional consideration to entrant.
• Failure to obtain or provide such consent will disqualify the Entry Amazon Kindle Storyteller Award.
• Sponsor may at any time during the Competition request proof of such consent and disqualify any Entry for which such consent cannot be provided.
• Sponsor may disqualify any entrant whose Entry Sponsor determines, in its sole discretion, at any time does not to comply with any requirement described in these Official Rules or the foregoing representations and warranties.
• Entrants agree to indemnify and hold harmless Sponsor, the Prize Providers, any person or any entity involved in any aspect of the Competition (including funding, judging or administration), and each of their respective parents, subsidiaries, affiliates, advisors, contractors, and advertising/promotion agencies (collectively, the "Released Parties"), for any action or claim brought by a person whose consent entrant did not obtain.
• Personal Information submitted by entrants may be processed for purposes of administering the Competition, conducting publicity about the Competition and such additional purposes consistent with the Competition goals.
• Sponsor will share your information with third parties that have a need to know, such as the judging panel and third parties Sponsor retains to assist in administering the Competition.
JUDGING
First Round.
Each Book will be rated based on commercial viability (including Book's sales, borrows and customer feedback), as determined by Sponsor in its sole discretion.
A minimum of five finalists will be selected.
In the event of a tie, the tie will be broken by the tied Entries being rated based on originality of Book content.
Sponsor will not contact you if you are not selected as a Finalist. Each Finalist will be notified by phone or e-mail.
Each Finalist will have two (2) business days from the date of Sponsor's notice to respond to Sponsor and confirm acceptance of the Finalist Prize (as defined below).
If a Finalist (or any substitute Finalist) is disqualified, ineligible, cannot be reached, or fails to claim the Finalist Prize within two (2) business days of Sponsor's notice, that winner (or substitute winner) will forfeit the Finalist Prize and it will be awarded to the entrant who submitted the next highest rated Entry, as determined by Sponsor in its sole discretion.
If, having attempted to contact a Finalist and the substitute winner for such Finalist, Sponsor is unable to award a Finalist Prize, Sponsor reserves the right to consider such Finalist Prize unclaimed.
Final Round.
During the final round of judging each Finalist's Book will be rated by a panel of qualified judges selected by Sponsor using the following criteria (i) originality of Book content; (ii) creativity of Book content; and (iii) quality of writing (collectively, the "Judging Criteria").
One Grand Prize winning Book will be selected based on the Judging Criteria. In the event of a tie, the tie will be broken by the tied Books being rated based solely on originality of Book content, as determined by Sponsor in its sole discretion.
The Grand Prize winning Book will be announced by Sponsor in Q4 2020 and added to the Storyteller page.
All decisions of Sponsor are final and binding, and no correspondence will be entered into. Non winners will not be notified.
The name of the Finalists and Grand Prize winner and their county of residence will be provided on receipt of a written request sent to [email protected] within 30 days of the award of the applicable prize.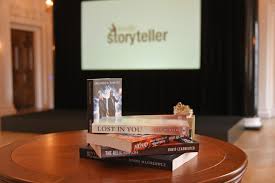 PRIZES For The Kindle Storyteller Award by Amazon.
Each Finalist will receive a Kindle Oasis E-reader – Graphite, Waterproof, 7″ High-Resolution Display (300 ppi), Built-In Audible, 32 GB, Free 3G + Wi-Fi (each a "Finalist Prize").
One Grand Prize winner will receive the following Grand Prize package (collectively, the "Grand Prize"):
• £20,000 cash or check award to be direct deposited or electronically wired to the Grand Prize winner's account;
• A book launch merchandising package on Amazon.co.uk for the launch of the Grand Prize winning Book, as determined by Sponsor in its sole discretion;
• The opportunity to participate in a mentoring session with a KDP author selected by Amazon in its sole discretion.
• Each Finalist and Grand Prize winner will be responsible for paying all costs and expenses related to the applicable prize(s) that are not specifically mentioned, including, but not limited to, taxes, and any other expenses that might reasonably be incurred by the winner in receiving or using the prize.
Each winner may be required to submit to Sponsor such tax filing information required by Sponsor in order to claim the prize.
All prizes awarded will be inclusive of any taxes Sponsor is required by law to withhold as well as applicable sales, use, gross receipts, goods and service, or similar transaction based taxes, as determined by Sponsor in its sole discretion at the time such prizes are awarded.
All other taxes, costs and expenses associated with acceptance and use of any prize not specified in these Official Rules as being provided are the sole responsibility of the winners.
IF TAXES ARE APPLICABLE TO THE PRIZES, IT IS THE RESPONSIBILITY OF THE WINNER TO PAY TO THE APPROPRIATE AUTHORITIES. PAYMENTS TO COMPETITION WINNERS ARE SUBJECT TO THE EXPRESS REQUIREMENT THAT THE WINNER SUBMIT TO SPONSOR ALL DOCUMENTATION REQUESTED BY SPONSOR TO PERMIT COMPLIANCE WITH ALL APPLICABLE STATE, FEDERAL, LOCAL AND FOREIGN (INCLUDING PROVINCIAL) TAX REPORTING AND WITHHOLDING REQUIREMENTS.
Competition winners are responsible for ensuring that the tax documentation submitted to Sponsor complies with all applicable tax laws and requirements.
If a winner fails to provide the documentation or submits incomplete documentation, the prize may be forfeited and Sponsor may, in its sole discretion, select an alternate winner. Sponsor reserves the right to substitute any prize (or portion thereof) for an item of comparable or greater value, in its sole discretion.
All prizes will be awarded WITHOUT WARRANTY OF ANY KIND, express or implied (including, without limitation, any implied warranty of merchantability or fitness for a particular purpose).
Limit one prize per person. In the event the Book selected for a Grand Prize winner package has two co-authors, only one Grand Prize winner package will be provided. It will be shared equally between the two co-authors.
Good luck