Businesses are attracting customers through marketing their content. A piece of quality content with good marketing efforts can bring up great user engagement. Content is the source to bring up any website in search engine result pages. It is used for SEO of a website along with PPC campaigns.
Bringing up the quality of your content can also boost your engagement because search engines like quality content and they only show remarkable content to their users. Hence, there is no doubt in content enhances user engagement.
So, in this post, we will give you five practical tips to increase user engagement through content. But, before going into that first, understand the term 'user engagement' itself.
What is User Engagement?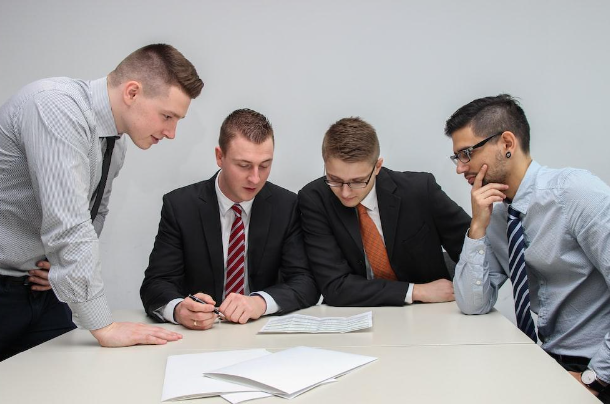 Every business wants to get maximum engagement nowadays. But, what actually is user engagement? Let us explain it to you. When a user clicks on your website whether the click is organic or paid, it counts as an engagement.
Moreover, when a user like, comment, saves, downloads or shares a post, it also counts as an engagement. So, engagement is everything that a user performs on your paid ad post or organically ranked webpage.
User engagement can be more beneficial when it turns into leads and sales. People who tend to engage with your content have a high possibility to purchase, signup, or subscribe to your site.
User engagement is very necessary for calculating profitability, return on investment (ROI), and product performance. Additionally, you can calculate the number of visitors who came to your website manually instead of depending on the tools.
5 Practical Tips to Increase User Engagement through Content
As promised, here are five practical tips for enhancing user engagement through content. One can follow them to add more butter to his/her business and sales by following the below tips: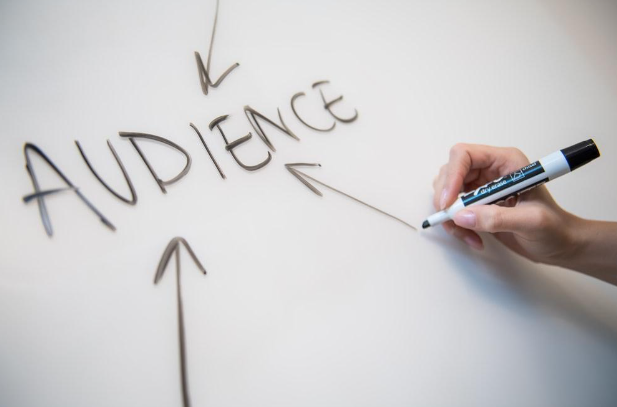 You would never like to read something out of your interest. Moreover, we are sure that irrelevant ads get you annoyed that have nothing to do with your usability. Therefore, always write according to your targeted audience. 
Being aware of your audience helps you write engaging content for them according to their expectations. You can perform in-depth research to know your audience if you are new to the market. There are multiple ways to perform research for detecting the right audiences.
The most effective way is to study your competitors. Go through the content posted regularly by your competitors and see the people's reactions and comments on it.
This way you will be able to see the problems of people that can be resolved with a product and you may also get to know the people you need to target. 
Another way is; giving time to social media platforms and question-answering forums. Answering people's questions and analyzing the discussions on question-answering forums like Quora and Reddit will help you find their pain points.
When you know the right people while knowing their pain points, you can write a perfect piece of content for them. Always focus on the problems rather than the solutions. Social media platforms like Facebook and Instagram can also help you in finding the right audience by conducting surveys and polls.
Perform the Right Keyword Research
A keyword is a word or combination of words that people use to search on search engines. They are usually a combination of words that represent a problem or solution to some problem.
Keywords are an essential component of content writing. They need to be added on spontaneous occasions in the whole content. The number of times a keyword occurs in a piece of content is known as keyword density. It can vary according to the length of the content.
We will be discussing the keyword's placement, density, and nature in detail, but first, let us explain the process of finding the right keywords. Hence, to perform the right keyword research, the following techniques can be used:
Use Google Search Bar:
Google search can help you find the right keywords for your content. Open Google Chrome and go to the search bar, then enter random words regarding your topic as I did in the figure below.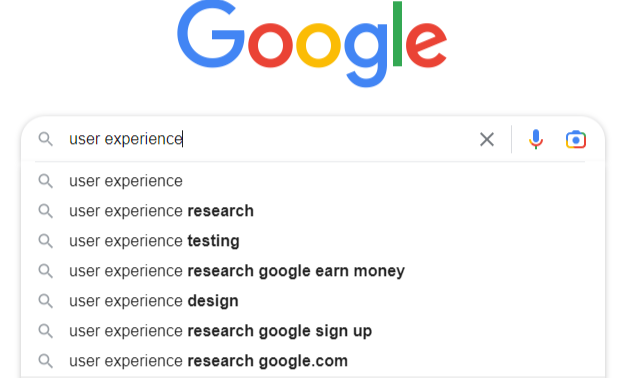 We entered the keyword 'user engagement' in the Google search bar and it gives me the related keywords to it such as ceiling fan watts, ceiling fan price, ceiling fan sizes, etc. It also gives you the LSI keywords of the main keywords. You can use these suggested terms as keywords in your content.
 Examine Google's People Also Ask Section
Whenever you search for something on Google, in the middle of the first page of the search results there is a section named 'People also ask'. This section can help in finding the FAQs and points that you should discuss in your content because users frequently search for them. Adding FAQs at the end of your content makes the quality better.
Do Consider Related Searches
At the end of the first page of search results, there is a section for related searches. They include FAQs and topics that people usually search on search engines. You can consider them as keywords and headings to add to your content. Adding the queries from related searches helps search engine to understand and rank your content higher in SERP.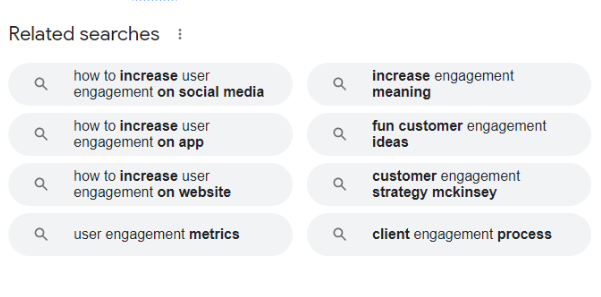 Use Keyword Research Tools
For in-depth keyword research, online tools are used. These tools include Google keyword planner, Semrush, Ahrefs, and Ubersuggest. They are all highly advanced tools that can even find the keywords on which your competitors are ranking.
These tools use high-end programming algorithms to find the exact keywords for a topic. Along with main keywords, they also provide secondary and LSI keywords. An online keyword research tool can give you the exact search volume of keywords in a month. Plus, it also provides the keyword difficulty and competitors that are ranking on a specific keyword. 
You just have to put a keyword or URL in the search bar of a keyword research tool and it will provide you with related keywords with high search volume. You can also apply filters while searing keywords with a tool such as country restriction, it will only show you the keywords ranking in a specific territory.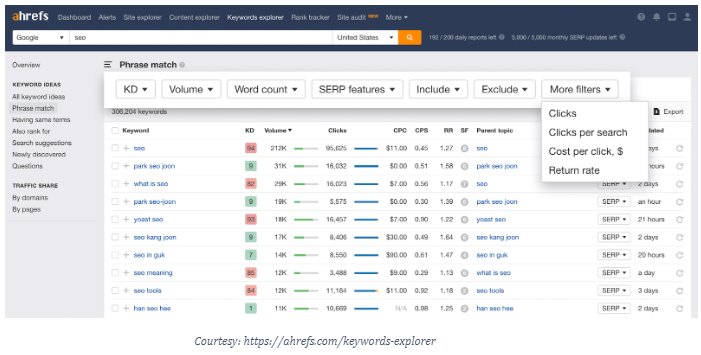 Courtesy: https://ahrefs.com/keywords-explorer
Qualities of a Good Keyword
The keyword should be long tail (consist of 3-4 words)

The keyword should have a good search volume

The keyword should have a low difficulty/competition

The keywords should be highly relevant to the topic.
Avoid Keyword Stuffing
Keyword stuffing is known as forcefully adding keywords to a piece of content. Normal adjusting of keywords is always suggested because search engines and users want quality content instead of keyword-stuffed content. 
Therefore, add keywords only where they are necessary and look normal to the viewer. The number of times a keyword occurs in content is known as keyword density. To decrease the keyword density, you can add LSI keywords instead of the main keyword. They are also called synonyms or alternatives to a keyword.
Hence, to give you an overview of keyword adjustment and density, here is the recommended keyword density in a 1000 words content:
URL of the webpage: (1x)

Title of content: (1x)

Meta-Description: (1x)

Introduction: (app. 2x)

Body of Content: (use where needed & also add LSI keywords)

Conclusion: (1x)
Write Interactive and Readable Content
High-quality content is a necessity for enhancing user engagement. Whereas, for making high-quality content, interactivity and readability should be top-notch. But, what is meant by interactivity and readability?
Interactivity is about making the content talkative to the users. For example, you can ask users questions or put them in a situation where they have to think. Making the user think around a point can make the content interactive. Another great way to make the content interactive is to present it as a story and relate the reader to it in multiple places.
Visuals can also help in making the content interactive. Adding images and videos to your content makes the quality better because search engines like content with visuals in it. Make sure to add only relevant visuals and optimize them before posting. 
Whereas readability refers to the time taken for an average person to go through your content. Google suggests making your content easily readable by an 8th-grade student or a child of 13-15 years. This can be done using easy words, shortening the sentences, writing active voice sentences, etc. Difficult words and long sentences make the content hard to read.
The readability of content can be enhanced by rephrasing the sentences in it. To rephrase the content, you have to change the difficult words with their easy synonyms by using Google or by using online rephrasing tools. By doing this, you can rephrase your original content in a new way without affecting its main idea.
Moreover, changing the sentence structure is also included in the rephrasing process. Converting indirect sentences and complex sentences into simple and direct ones can also help increase the readability of content.
Rephrased content will definitely perform better in enhancing user engagement through content because users and search engines both like highly readable content. You can also use online tools like paraphrasing and rewriting tools to enhance the readability of your content. They can ease the hurdle of making the content highly readable.
Try Different Writing Formats
Different writing formats or styles are used to write content according to its requirement. For example, a piece of academic writing requires a formal content tone or style, while a movie script requires an informal or jolly tone. Below are a few writing styles mentioned with their overview:
Analytical writing is about comparing, dissecting, and analyzing current arguments with previous or already written content. In this type of writing, we majorly discuss the causes and effects of something. It is used for writing comparisons and review articles.  
We use narrative writing for writing novels, poems, stories, movies, serial scripts, etc. In this type of writing, we majorly emphasize the next moment. There is always a touch of suspense and drama in narrative writing, while it has no concern with reality. It may involve a message idea that a writer wants to convey to the audience.
In persuasive writing, a writer conveys his thoughts and emotion in the form of content. The writer peruses his content based on facts and logic, but there is a touch of emotions, humanity, or somehow bias. Advertisements and commercials are often crafted in this writing format.
How-to-articles, guides, essays, articles, etc. are mostly crafted on this writing pattern. In expository writing, the writer only talks about the facts and figures while being unbiased. Your own opinions and thoughts do not matter in expository writing.
Persuasive writing and argumentative writing are almost the same, with only one difference. In persuasive writing, the writer peruses his content based on facts and logic with a touch of emotions and biases but without proof or evidence. Whereas in argumentative writing, the facts or evidence for being biased are necessary.
Ensure the Content Uniqueness
You cannot enhance user engagement without high-quality and unique content. Therefore, plagiarism can be an evil of nights for you. After writing the content, it is necessary to check for plagiarism in it to ensure providing unique content to the users. There are still chances of plagiarism in your content even after you write it on your own. Due to the excessive amount of content available online, it becomes very difficult for content writers to avoid plagiarism.
Anyone can be trapped by unintentional plagiarism. Therefore, always check your content for any plagiarism traces by using online plagiarism-checking tools because they provide accurate results. A plagiarism checker can detect even a minor amount of plagiarism in your content using its highly advanced algorithms. If any part of your content is found plagiarized, rephrase or cite it to ensure uniqueness.
Conclusion
We have listed the best five ways to enhance user engagement through content in this article. Always consider the audience while writing and write highly readable and plagiarism-free content. Moreover, adjust the right keywords in the right place. 
Once you are done with writing content for the audience, always run it through by using online plagiarism-checking tools. This will help you to ensure the content's uniqueness before presenting it to the audience.
Hope this article helps you in creating engaging content. Thanks for reading!
Author: