In an interview, Bright Sado Omo discusses his latest work and his writing process. Enjoy.
Bright Sado Omo was born on the 17th day of October, 1991 in Benin City, Edo state. He graduated from Ambrose Ali University. In the struggle his first published work. He's currently working on his first novel, and second book titled: The Disillusioned Ones. It is to be published by Britoman Prints, an imprint of The Britoman Group. He won the short spam award for literature in 2012 and Edo State Pen Awards for Plays.
CWN: Tell us a bit about what inspired you to be a writer?
Bright Sado Omo: When I was much younger, I read stories and therefore got the inspiration to write my own stories. As I grew up I began to understand how these stories either in the play or novel genre could be used to examine happenings around humans and how they proffer solutions to problems. So it further inspired me to write.
CWN: Is "In The Struggle" your first novel?
Bright Sado Omo: :"In the struggle" is my first book.
CWN: You mentioned that "In The Struggle" was adopted as a text for University students. How many Universities have adopted your book? And how did you get them to adopt your book?
Bright Sado Omo: Three universities adopted it. I approached a few lecturers of the English departments of these universities with the introduction of my book and placed inquiries about courses which my book could concord with. Then I made copies available to the lecturers for proper examination after which they approved it.
CWN: Are you a full time writer or is writing just one of your hobbies?
Bright Sado Omo: I am a student writer.
CWN: What's the name of your publisher? Where can your book be purchased?
Bright Sado Omo: My publisher is Imaglo Prints, operational in Benin city. For copies of my book, you can contact my marketer; IK bookshop Ekpoma, on +2348146190318.
CWN: Who are your favorite authors and what book are you reading at the moment?
Bright Sado Omo: My favorite authors are: Professor Wole Soyinka, Chinua Achebe, late Festus Iyayi, Ewan Alufohai, Ngugi Ta thiongo, Chimamanda Adichie, Kaine Agari, James Baldwin, Charles Chesnut, Earnest Hemmingway, Omoalu Nicholas, Oluwagbenga Samson, Peter Abrahams, Anthol Fugard and many more. I am currently reading ; The Bluest Eye by Toni Morrison.
CWN: What did you enjoy most about writing this play?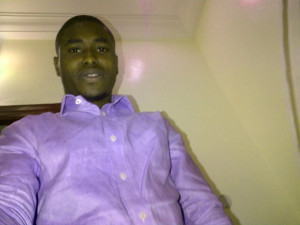 Bright Sado Omo: The part where I expressed my observations through distinct characters.
CWN: What is your take on the poor reading culture in Nigeria? In your opinion, what do you think can be done to change it?
Bright Sado Omo: The situation is very disenchanting. However, these distractions can be identified. We can then cultivate good reading cultures and then minimize those distractions to maximize the development of a better reading culture.
CWN:If you had to choose, which writer would you consider a mentor?
Bright Sado Omo: Wole Soyinka. Because he has transformed words to humans.
 CWN: Briefly share your publishing experience with us.
Bright Sado Omo: The process was extremely rigorous, with the demand for a high level of patience. I contacted my publisher informing him of my manuscript, which I later submitted before agreeing on terms. A co-writer and I did the major part of the editing so it wasn't a bed of roses. I am based in a variant town from my publishing house so I had to be on the road a lot of times until the final proof reading and then printing.
CWN: What genre of music and movies are your favorites? Do they inspire your writing?
Bright Sado Omo: I listen to gospel, hip hop and RnB and as a matter of sincerity, they stir up the flow of ideas to my pen.
CWN: Do you have any advice for other aspiring writers?
Bright Sado Omo: My advice to young writers is to believe in themselves and hold patience as their virtue.
Thank you for sharing with us Omoh Sado.